London Marathon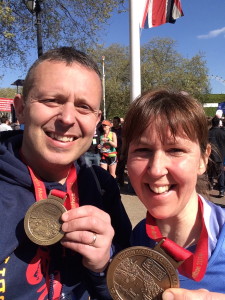 Congratulations to all of you who took part in the London Marathon yesterday, well done. It was almost perfect conditions yesterday albeit a little warm, with many runners suffering in the heat. 36,000 runners took part, many running for charity.
Wilson Kipsang of Kenya won the men's elite race in a record course time of 2:04:29
Mo Farah finished his first London Marathon in eight place in a time of 2:08:21 just over a minute outside the British record.
Special well done to our local Sheffield runners
James Hope-Gill finishing in 4:26:00
Jules Hope-Gill completing in 4:42:00
Baz Aveyard crossing the finish in 4:57:41
I did 4:42 ish and loved it, crowd amazing, noise fantastic. Tired but kept my style at the end so felt good. Smiled at as many photographers as possible! Great fun, absolute blast. Great support, didn't stop running. Jules Gill-Hope

It was slow but hot and I think I got sunstroke, I just dug deep as I was not going over 5 hours. Baz Aveyard