Hi, I'm Adam, personal trainer, running coach and fitness enthusiast
Inspiring People To Become Fitter, Improve Running Performance and Live Better
Want to improve your running performance & reduce the risk of injury?
Not a fan of going to the gym?
Busy family / professional lifestyle?
CLAIM YOUR FREE ' IMPROVE RUNNING PERFORMANCE' CONSULTATION
To claim your free consultation, simply click on the button below and enter your details.
*Taylored Personal Training will use the information you provide on this form in order to contact you and keep in touch with updates. You can change your mind at any time by clicking the unsubscribe link on any emails you receive or by contacting me directly on adam@taylored-personal-training.co.uk. I will not share your information with 3rd parties. By clicking send you agree with these terms.
Privacy Policy
MY PERSONAL TRAINING SERVICES
Kim's Story December 2021
Helped me train for Peak District Ultra – 33miles
I started running about 15 years ago and began road cycling a few years later. I am a Consultant Anaesthetist and work can be quite busy, so I generally have a year where I'm focussed on a running event and then a year focussed on a cycling event, but still keep doing some of the other sport too. 2020 was a tough year at work with Covid and I went back to full shifts for a few months and was emotionally and physically tired. I managed to continue running and cycling but not in the same way as before. It was now simply to get out in the fresh air and, when we were allowed, to spend some time with friends. I did however, miss having something to train for but did not feel I had the "headspace" or motivation at the time for this. A friend of mine told me about her training with Adam and the improvements and drive it had given her so I contacted Adam.
I had already been keeping up my running in early 2021 and had built up to 20 miles, aiming for a long-distance event later in the year but also had a 350km multi-day cycling trip booked in June so needed to continue riding before fully committing to my ultra training.
I met Adam in June and liked him straight away. He was passionate about running and also had a running goal he was training for and he was also easy to chat to. He shared some nutritional plans with me and some recipe ideas to help me with my additional goal of losing some of the weight I had gained over lockdown. I find it hard to eat healthily when on shifts and comfort eat when stressed. He noted when my on calls were and worked my training plan around them. He was very patient of factoring in cycling on a Sunday, which is when my cycling club rides, and sent frequent text messages to check on how my food diary and training was going and offered advice and encouragement.
His online HIT videos are clear and it's really useful to have the video in real time to follow. They're hard work but I now understand the benefit of these sessions.
Our 1 to 1 running training sessions were excellent and I really enjoyed them. Adam used the hills near where I live and introduced different drills so it didn't get tedious. Throughout each session he offered gentle encouragement. No shouting. Also, He explored how tough the session was to gauge how much harder he could push me and if I still had breath he would encourage me to keep going further or a faster.
The strength sessions in the park were also very interesting and worked muscles I didn't realise I had! It was good to be outdoors whilst training.
During my training for my Ultra I became fitter and faster and could see PBs on Strava segments that I'd run many times before. It also gave me the mental strength to push a bit harder on shorter fell races I had entered and on Ultra race day when my legs were hurting a lot.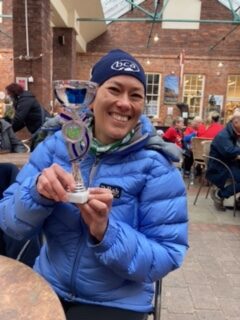 My ultimate goal had been to finish the Peak district Ultra 33. It was tough that was actually 35 miles on the day (and no I didn't get lost!), but I finished it in a good time and also was 8th lady overall so I was ecstatic!
Thank you Adam for your help, encouragement and support.
My primary focus is on the wellbeing of the people that I help whilst continuing to support my clients during
'Runners Workshop' for anyone running this years Sheffield half marathon. All money raised will be donated to St. Luke's
We all see them in the media, on the television, In magazines: Abs. but how do you get them? We
Taylored Personal Training
is a proud ambassador of Decathlon