Hi, I'm Adam, personal trainer, running coach and fitness enthusiast
Inspiring People To Become Fitter, Improve Running Performance and Live Better
Want to improve your running performance & reduce the risk of injury?
Not a fan of going to the gym?
Busy family / professional lifestyle?
CLAIM YOUR FREE ' IMPROVE RUNNING PERFORMANCE' CONSULTATION
To claim your free consultation, simply click on the button below and enter your details.
*Taylored Personal Training will use the information you provide on this form in order to contact you and keep in touch with updates. You can change your mind at any time by clicking the unsubscribe link on any emails you receive or by contacting me directly on adam@taylored-personal-training.co.uk. I will not share your information with 3rd parties. By clicking send you agree with these terms.
Privacy Policy
MY PERSONAL TRAINING SERVICES
Aviva Workplace Fitness Class Story 2018 – Present Day
When I joined Adam's classes at work, I had gained a stone over my normal weight (first time in my life I had gone over). Probably due to stress and also age, but was determined to fight it and go back down my usual weight. I was told that due to age/hormones, I would have to do double or triple what I did before for it to have the same effect. It is fair to say I wasn't very fit at the time, and, even though I cycled a bit, I struggled with any continuous exercise.
I was a bit worried before starting the sessions, as wasn't sure what level of fitness everybody else would have. It was great though that I could fit the training around office hours, as life is very hectic (in normal circumstances, pre-corona!), and was struggling to find time to do exercise (any excuse was good enough!).
I wanted to lose the weight I had gained over my "normal", and also feel fit, as didn't think it was good to get out of breath after a little bit of running or going up the stairs…
Adam's sessions were great, as I could slowly build up fitness without feeling under pressure, thanks to alternatives options offered during the class. Also, with the additional workouts posted on our Whatsapp group, it meant that I could do extra sessions during the week. Even when I went on holidays during the Summer of 2019, I carried on doing Adam's circuits, joined by my Spanish family, at our holiday home and at the beach!
Slowly but surely I started feeling a lot fitter, and within 6 months, thanks to the training and the nutritional advice, I lost all the weight I wanted to lose and have managed to keep it off, eating well and not feeling hungry or miserable over it! And now, 10 months after starting training with Adam, I feel really fit, and can tell lots of fat has disappeared from my body.
The circuit training has also helped me with cycling, as have much stronger legs. When I dusted off my bike a month ago (I only cycle in good weather!), and started doing hill routes I would normally have struggled with, I was taken aback by the ease I was pedalling up steep inclines! I also run a lot faster without getting out of breath. It is also fair to say the exercise and the feeling of being healthier has helped with my mental wellbeing in this trying pandemic times.
As I have achieved the goal I started with, my goal now is to keep increasing my fitness levels slowly but surely, so that going through the next few years of continuous hormonal changes doesn't affect my body shape, heart rate, and health in general. Paz
I am so glad we have Adam coming into our workplace at lunchtimes to provide a 1st class HIIT session. When you do HIIT you only need half an hour to get great results. I started in Adams class because I get very little free time outside of work, still paying for a gym membership I think that I have not used for over a year now!
I was training at the time for a 10k mud running event but i enjoyed getting the exercise again and continued with the class after the event. Adam from day one has been professional and keeps ups working hard outside the work group by keeping us in check with homework from time to time which is great as you don't need a lot of space at all and it takes all the thought away from planning a workout regime yourself although i am a bit slack at getting this done.
I feel a lot fitter for doing this class and it keeps me in good shape for winter when the snowboard comes out. When I started out it didn't take too long to start noticing a difference in my cardio fitness from just 1 class a week.
After the class I feel great in the afternoon, it's like the day is reset and ready to start again. Adam keep up the great work and it would be great to see you for a second class every week too, thanks for your time and effort. Neill
The gym really isn't for me. Just cannot get motivated to go after work and faff around with some equipment. The Hiit class is perfect. At work, during my lunch hour, and with instruction from a patient & knowledgeable instructor. Adam takes notice of injuries, niggles, ability, and adjusts accordingly so a class of 10 can all do an effective workout. I want to improve fitness and shrink the beer belly and its all going well. Buzzing for the rest of the day so would defo recommend and do a 2nd sesh. The Hiit means you improve all round and it would complement other regimes or work as a stand-alone class. I did do a boot camp way back when and the results were great so when I saw this was available at work I signed up. It's been 5 months or so and am gutted if a meeting gets in the way and I have to miss one. Great banter with Adam too who acknowledges and encourages individually. Iain
Adam comes into my place of work every Monday to run a HIIT session. I joined as wanted to get fitter whilst trying to fit it in a busy scheduled, and it works brilliantly. It is a great motivator to work out with work colleagues, and I'll come back to my desk feeling really energised for the rest of the afternoon. An easy way to fit in a work out in my daily routine! Since joining the class, I am much fitter than before, and my core is a lot stronger. Paz
Adam comes into our office at lunchtime to do a HIIT class. At first I thought 'hmm, is a 30 min class enough?' I thought it might be too easy but Oh no! He certainly puts us through the paces. He starts and finished on time and u work from the first second to the last. Important when you are attending in between meetings. The class makes you feel great and energized all afternoon.
The classes change all the time and so it's never boring. They are always hard work but you get results. He is really encouraging and we have a laugh as well – as long as we are working! I'd definitely recommend Adam for personal or group training. Julie
I started going along to Adam's lunchtime Hiit class at work a few weeks ago when a local Hiit class I was going to stopped. I was a bit dubious about doing it inside and at work but I'm so glad I joined up…the class is targeted, well paced and makes you work hard! I really enjoy the class. Adam makes it fun but keeps us focussed. He is really attentive in making sure you are getting the most out of the session and on getting the exercises right.
I always feel like my body has been worked hard and I feel good for the rest of the day, almost dreading the pain the next day but in a good way!!! I would love it if there were a further session later in the week too!!!! Can't recommend Adam enough if you want commitment to getting you results. Sam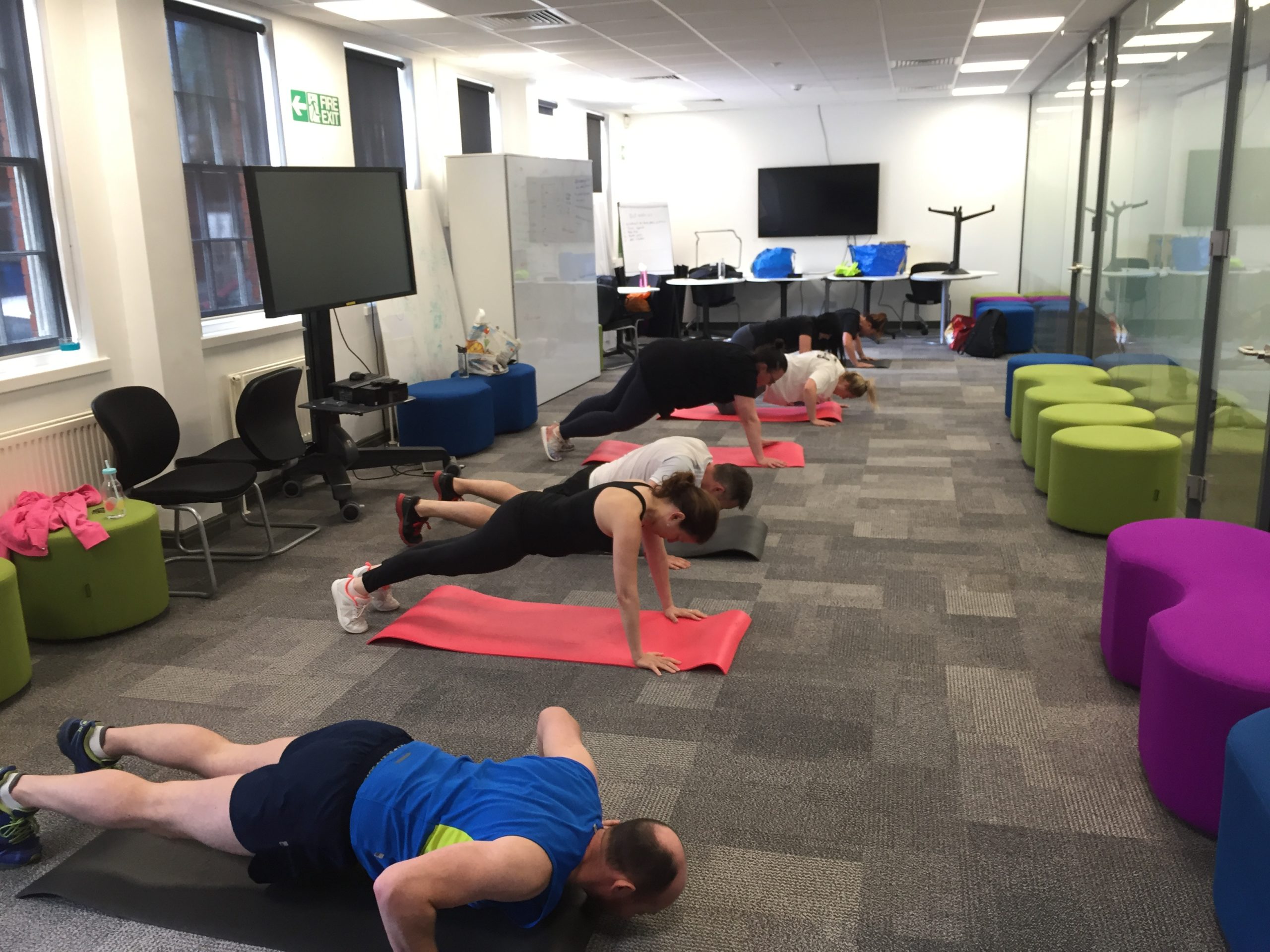 I've been attending Adams HIIT class for approx 7/8 months every week, as I wanted to feel physically fitter after having my daughter. I found that Adam listened to what I wanted to achieve and worked with me in a way that has gently encouraged me to push a little further out of my comfort zone in order to see results. I have felt so much better about my fitness levels, which have improved dramatically since working with Adam. My class is at lunchtime and I feel so much more energised and alert in the afternoon. I would highly recommend Adam as a personal trainer that really knows his stuff and most importantly how to motivate & get the best out of me. Kirsty
My primary focus is on the wellbeing of the people that I help whilst continuing to support my clients during
'Runners Workshop' for anyone running this years Sheffield half marathon. All money raised will be donated to St. Luke's
We all see them in the media, on the television, In magazines: Abs. but how do you get them? We
Taylored Personal Training
is a proud ambassador of Decathlon