What is Running Performance Coaching?
Running performance coaching is about helping you reach your maximum potential through 1-2-1 coaching or online / remote coaching that is safe and effective from the comfort of your own home or outside in the parks or Peak District National Park. I will either train you on a 1-2-1 basis to help you improve your speed, distance strength, coordination, flexibility and agility as a runner. Or I will train you remotely / online.
What to Expect During Your First Consultation?
After a warm introduction I will begin by confirming your personal profile and par-q forms, which you would have already completed. I'll carry out a body mot should you want one which is a thorough assessment of blood pressure, resting heart rate weight, height, waist & hip measurements and body fat percentage. I will then run with you and assess your technique. Following your assessment I'll then explain to you your diagnosis and then discuss the best course of action to take and which running performance coaching package will best suit your needs and reach your maximum potential.
Consultations normally take 45 minutes
Is this you?
Are you unsure of how to train properly for a 5k, 10k, half marathon, marathon or fell/trail race?
Have you reached a plateau with your training and need expert guidance to reach your full potential?
Do you frequently get injured when training for a long distance race?
Do you struggle to maintain a strength and conditioning program?
If you have answered YES to any of these questions then I can help you. I have 3 running performance coaching packages to suit your goals and budget. Each package is for a minimum of 3 months commitment. I can also design bespoke packages should you require one.
Bronze – Online / Remote training
2 x 30 minute Zoom live workout with me per month
1 x 15 minute coaching call via zoom per month
Detailed monthly training plan each month
Email support
Nutritional advice
Silver – 1-2-1 training with Online / Remote training
1 x 30 minute Zoom live workout with me per month
2 x 60 minute coaching sessions at home or in the park per month
Detailed monthly training plan each month
Email support
Nutritional advice
Gold – 1-2-1 training
2 x 30 minute Zoom live workout with me per month
4 x 60 minute coaching sessions at home or in the park per month
Detailed monthly training plan each month
Email support
Nutritional advice
For more information and prices please complete the simple form below and I'll be in touch. It will take no more than 60 seconds of your time 😊
Running Performance Coaching Enquiry Form
Running Performance Coaching Testimonials
Kerry's Story May 2015
Before I met Adam, I couldn't run for more than a few minutes without having to stop. Apart from the occasional jog on a treadmill at the gym, running was completely new to me.
In March 2015 I signed up to Adam's 0-5k package. At first I was sceptic as to whether I would be able to run 5k in six weeks. I was typically someone who gave up easily if I became board or couldn't do something. Adam however, was confident I would be able to achieve my goal of running 5k continuously with his skills and guidance.
Before my first session, I was so nervous, but once I met Adam and discussed my goals with him my anxiety evaporated. Adam is down to earth and respectful of my needs. Adam helped me outline specific goals and guided me towards them. Without pushing me to hard, Adam pushed the boundaries of my comfort zone to encourage me to challenge myself. Every session was enjoyable and rewarding.
After six weeks of training with Adam, I ran my first 5k race. Adam gave me a sub 33 minute target to complete within. I finish in 30:57 which is my PB to date. Since signing up with Adam for a further three months, I have ran my first 10k race in 59:11 (New PB) and run weekly with Meadowhead running group.
I have gone from someone who could hardly run at all, to a 10k runner in just four months. I am so proud of what I have accomplished working with Adam. I couldn't have achieved these results without his motivation, knowledge and commitment.
Beth's Story January 2016
I have always enjoyed running but before I started training with Adam I was only managing sporadic runs every week or two. I was running the same sort of runs each time I went out and had no structure at all to my training. My 5k and 10k times had been static for several years and I had found this quite frustrating. I didn't particularly enjoy running alone and without aim and was struggling to find the time and motivation to do any more.
I saw a flyer for one of Adam's running groups and decided to go along one evening. I was quite nervous but found the group friendly and welcoming. I've made a few new friends amongst the group and hopefully found some new training partners for the future – running a few weekend races with the group and enjoying a social get-together afterwards has been really fun and opened up a new world of events I can enter. I liked Adam's training style and quickly decided to pursue Adam's Gold Personal Training Programme with him with the aim of improving my 10k time. My main reservations about this were the cost and time commitment involved but the benefits I have experienced in terms of both improved fitness and better work-life balance have been more than worth it.
I have really enjoyed training with Adam. He has provided me with a detailed training plan which has been tailored to my current ability and targets. The training sessions have been varied and interesting. I have a busy job and 3 small children so my time is limited but the mix in my plan, of outdoor running sessions, and strengthening and fitness sessions I can do at home when the kids are in bed, have made it achievable. I've had a few little niggles which Adam has been very responsive to, adapting my plan at short notice to prevent me from developing an injury. His regular contact via text and email have been a great motivating factor for the training I've done alone between his sessions. Adam himself has been a great trainer. He is easy going and friendly, so there has been plenty of chat and laughs in amongst the hard work. He is patient with my queries and positive and encouraging about what I can achieve. After just a few weeks working with Adam I managed to smash almost 5 minutes off my 10k time which was a huge achievement for me and one which I owe entirely to Adam's training.
In summary, I would thoroughly recommend both Adam's running groups and his 1-2-1 training. I am healthier, happier, faster and fitter as a result of working with him.
Lee's Story March 2017
I had previously run the London Marathon twice before and when I didn't get a ballot place this year my attentions turned elsewhere for my next challenge. Barcelona marathon had always been on my 'bucket list' and once my entry was confirmed I had only 10 weeks to be race ready.
I have been a regular runner for the last few years but had only utilised generic training plans to prepare for distance races. However given a busy work schedule and family life coupled with the limited timeframe I decided a different approach may be beneficial.
When I first spoke with Adam it was very relaxed and informal, we discussed at length my running history, personal situation and overall objectives to enable Adam to develop a specific training plan for the ten-week period. A weekly coaching call was then programmed to discuss my training progress on a weekly basis. I found these calls very informative and reassuring plus allowing the plan to be adjusted if necessary to suit other commitments for the following period. We'd chat about specifics of my recent training aided by the fact Adam had reviewed my Strava activity prior to the call – always an added incentive not to miss a session!
One of the key benefits of Adam's online training / coaching programmes was the introduction of Core & Strength work into my routine. Despite initial reservations this addition greatly improved my overall fitness, which was hugely assisted by the provision of Adam's online YouTube video links to help with technique on some of the more challenging tasks. Detailed advice was also provided on nutrition and recovery; items, which I'd never, previously paid enough attention too, but were grateful to receive Adam's insight into the importance of these areas.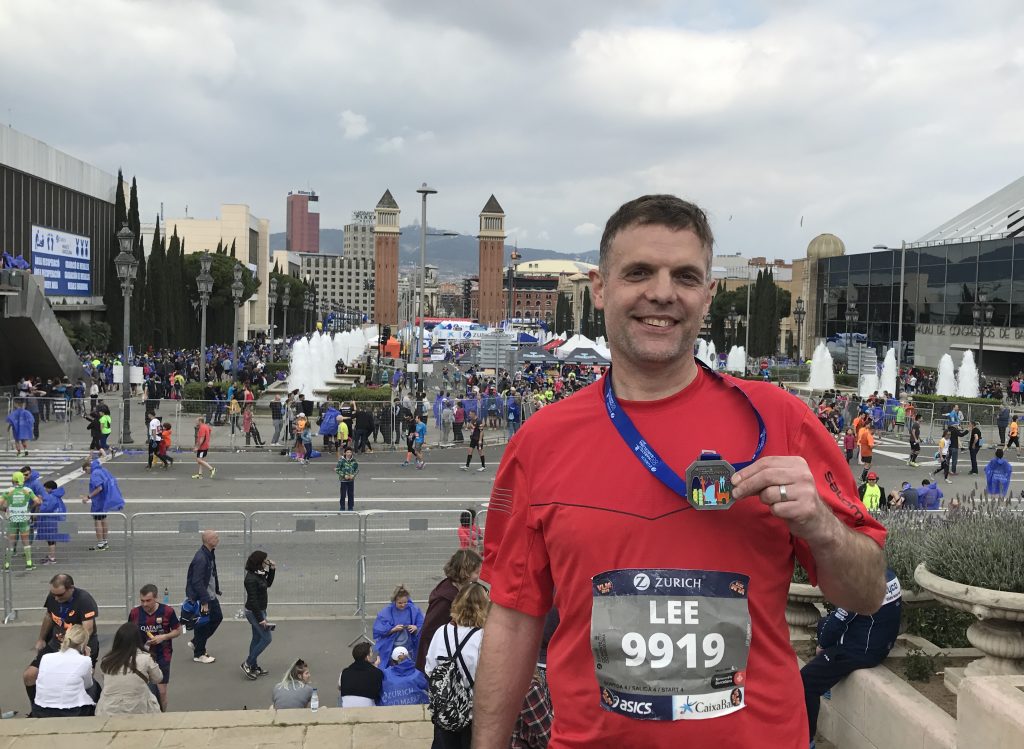 Particular focus was given in the days leading up to my Marathon in which strategy, diet and hydration were all discussed in detail. All the above meant that when race day came around I felt fully prepared, not just physically but mentally too. No doubts lingered in my head on the start line about whether I had I over/under trained, only that I'd been given enough expert advice and knowledge to put me in the best position possible.
I was delighted with my result at the Barcelona Marathon – knocking a whole Five and a Half minutes of my previous best, and running a negative split Marathon in the process. A thoroughly enjoyable experience and one I'll remember for years to come.
I would not hesitate to use Adam again – his help with training knowledge and race experience were invaluable. I'm already actively seeking my next running challenge and look forward working with Adam again.

Maddie's Story April 2019
I led a fairly healthy lifestyle but I found it very difficult to stay motivated and consistent with my training and positive eating habits. Working on a freelance basis at the time meant my working hours could really vary and so I found it hard to stick to a routine.
I was excited and nervous. I have never worked with someone 1-to-1 but I felt comfortable from the word go. I like to have personal goals to work towards and I signed up to the Sheffield Half Marathon. To complete the Sheffield Half Marathon confidently and to work towards better exercise and lifestyle habits.
It's been really great! I found our weekly sessions were a good way to check in with how things were going. The monthly plans were brilliant and having a week-by-week training plan, made it very easy to stick to. You were in touch regularly, which was motivating (particularly through those long, dark Winters days).
Not only did I finish the Sheffield Half in sub 2 hours but also I noticed a change in my energy levels and my physique. I have not lost too much weight because what I have lost in fat, I have gained in muscle.
I feel very positive about everything I've achieved with your help and am motivated to keep up my fitness! Not especially. I've entered some races previously and have a gym membership but never trained in this way before.
Although at times I found our runs challenging, the satisfaction of completing one (especially those hill reps) was very enjoyable.
London 2020 Marathon (if I'm lucky in the ballot) or continue to build on my current fitness.
Beth's Story June 2019
I first decided to get in touch with Adam after starting running a few years before but not being very good at it! I knew I needed advice about techniques and my nutrition, which was very poor. I have a hectic work life and work shifts that change at short notice. I was fairly active with running, spinning, swimming, yoga and walking but didn't seem to get the results I wanted. I ran regular running events but always just managed to get myself around whereas I wanted to run them comfortably and confidently.
I started sessions with Adam after returning from holiday at the end of June 2018. We went on the first run and he pointed out how I was running in good ways and other ways, which I could improve. It seemed so obvious! Adam explained the nutrition plan and still continues to give me sound advice about the foods I eat. I have totally changed my outlook to food and as a result of changes I've made I have realised intolerances that I have and how the food I was eating was affecting me.
The plan Adam creates for me incorporates all of the exercise I enjoy and at the same time pushes me. I have revisited some of the running events I previously completed and been amazed at the results. I now achieve between four to six minutes off previous PB's! I certainly wouldn't have achieved these times without Adam's expertise and support. Even on those days when it might be raining, I've had a tough day at work and really don't want to go out, Adam turns up at the door, smiling and full of positivity! I always feel one hundred per cent better after.
I remember Adam saying in the very beginning that we should spend as much time and money on our health and well-being as we do cars and holidays and he is so right. I feel fitter and healthier than I have ever felt and my only regret is not doing this in my twenties.
Julie's Story June 2019
Adam and I have worked together for five months. I am a fifty something woman who just wanted to be a better me and wasn't sure the best way to go about it. I thought I was already fairly active, lots of walking and a little running, but I just wanted a new approach.
I found Adam by chance, my husband and I were looking for someone who was prepared to come to our home to train us. Luckily for us he was willing to take us on.
My goals were to feel more energetic, lose a little weight, be able to wear all the clothes in my wardrobe, run a little faster and be able to fully utilise our home gym.
I found the prospect of having a personal trainer quite daunting, but I needn't have worried. Adam quickly worked out the best way to motivate me, which allowed me to relax and enjoy the training. His workout plans were very specific and the weekly 1:1 sessions were challenging but encouraging. The texts and check in's were good to remind me to stay on track.
The monthly weights and measures served to push me on, there wasn't always a weight loss but there was inch loss or fat loss 🙂
I feel energised now, and I feel that my goals have now all been met. Moving forwards I have a new goal to have a few months of trying to keep up the good habits Adam has taught me, and to see how well I can do under my own steam.
The most amazing thing to come out of my journey with Adam, was that I really enjoy doing weights and how much I trusted him to push me beyond my comfort zone.
Greg's Story July 2019
I needed a life pivot and decided to improve my fitness; to give a focus and some stress relief outside of work. Regular gym sessions initially helped in combination with considerable diet changes. I then hit a wall, a plateau where much more effort resulted in minimal change.
A chance meeting and resultant sessions with Adam Taylor helped me find the extra 10% that was never there before, ways of training outside the gym that were safe, yet produced effective results in minimal time. If you are happy to stick with your routine and just workout because it reduces your guilt then stay with it, however….
If you are serious about making a change, are short on time and want to see results fast under the support of a highly experienced professional, then Adam is a great trainer who is completely bespoke to your needs.
Greg Flint
Ness's Story December 2019
I can't thank Adam enough for coaching me to achieve my goal of completing the Montane Cheviot Goat this December. The race was a substantial undertaking for me, both in terms of distance, as the race exceeded my previous furthest distance by 20 miles, but also in terms of technical difficulty regarding winter conditions, terrain and navigation.  Not only did Adam do a great job of making sure I was physically fit enough to toe the start line, but he also offered lots of motivational support too- something which really helped to allay race day nerves as the big day got closer.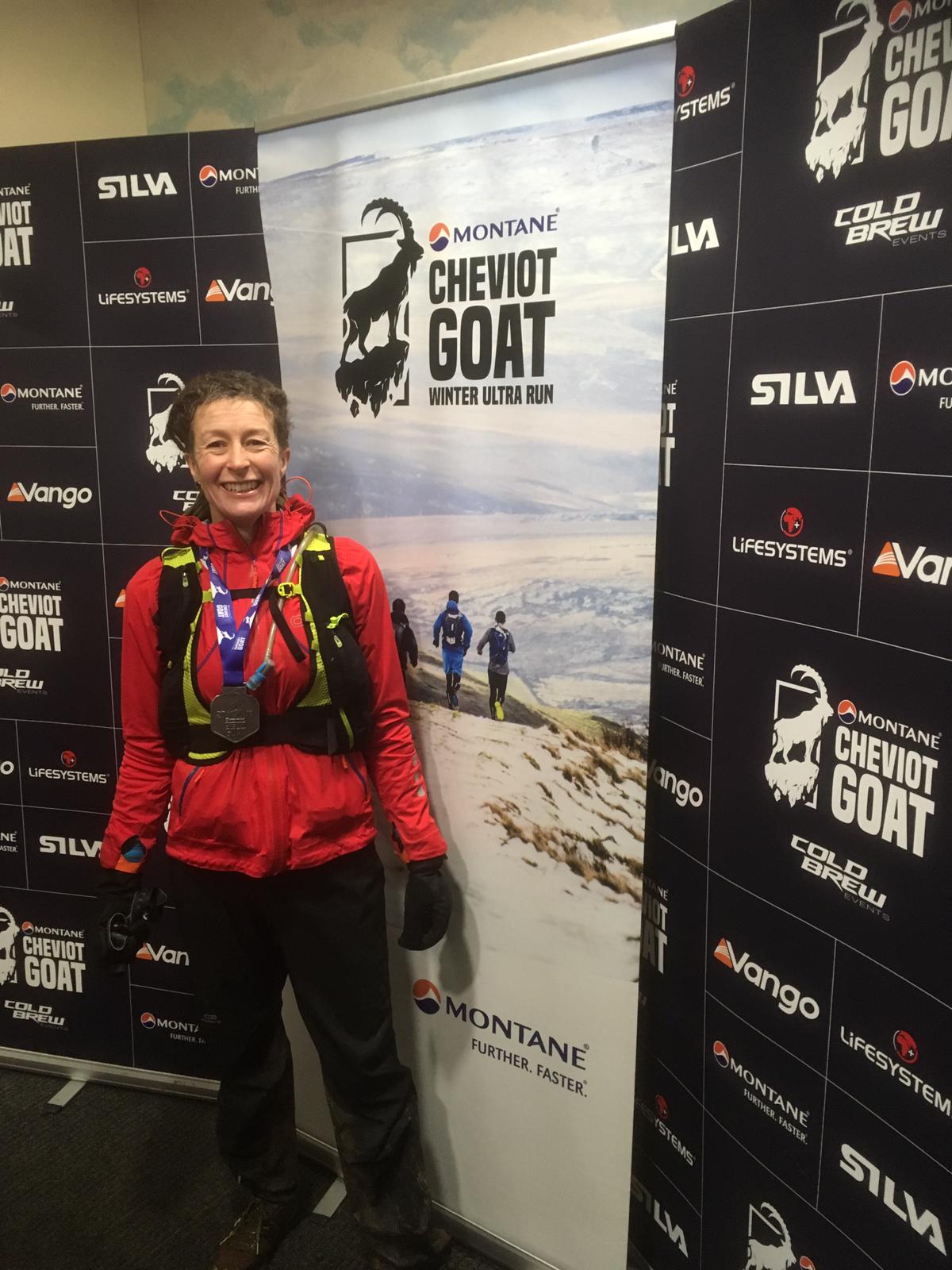 Adam prepared me for the race by creating a running plan, nutritional advice and strength and conditioning sessions all tailored for my needs.  The nutritional advice was based around my diet as a vegetarian and provided me with new recipes that I have now added to my diet as tasty staples. The running plan was really well thought out. It was challenging but achievable and took into account what sort of a week I had just had and what other races I had entered. The online workouts and one to one PT sessions he provided made me actually engage with, and enjoy, strength and conditioning work- something I didn't think was possible! One of the things that really impressed me was how versatile he was. When an existing injury flared up half way through the training plan, he immediately changed my running plan and strength and conditioning sessions to accommodate this. The result was an enjoyable training process followed by a successful race!
All in all, Adam was great. Always positive, really easy to get on with and very, very knowledgeable. If you are looking for someone to give you friendly professional support in order to achieve your running goals then I can't recommend him enough.
Louise's Story December 2019
Before working with Adam I was running sporadically but kept injuring
myself and was beginning to think that maybe running just wasn't for me. I just wanted to be able to run consistently without hurting myself. I was floundering and knew I needed some help, so I turned to Google. Adam had great reviews from all kinds of people including beginners like myself.
We had a chat over the phone and then met in person where we did a health mot and a short run to get a starting point. I decided to start with the bronze package. Adam has since written me 3 months of training plans and I am pleased to say I am now running 3/4 times a week with no injuries, I can comfortably run 5k in just under 30 minutes and have almost built up to 10k. As a bonus I have also dropped my body fat percentage and reduced my resting heart rate. The training plans were perfect, a good mix of runs and home workouts that slotted in to my week easily.
Adam has kept in touch every step of the way with regular txts and phone calls and is very supportive. This helped me to keep focused and not begin slacking. I have now come to the end of my 3 months with Adam but the training continues. I am using the skills Adam has taught me to go it alone for a few months.
Next I plan to build up to a half-marathon…I am sure I will be calling on
Adam again before the year is out!
Mel's Story March 2020
I've trained with Adam before in person, but was a little dubious about training online as I wasn't sure it would be as good.  I was wrong: Adam works me just as hard and gives me just as much direction, feedback and encouragement online as he does face to face.  And he works out at the same time so it feels like payback! : )  It was much better than me doing my own work out as Adam is a great motivator and also corrects my technique, minimising any potential injury / strained muscles.  I used my iPad as it has a large screen, so I could see Adam's demonstrations easily.  I was also familiar with the online platform (Zoom) beforehand, but it is really easy to use – even if you are not confident in using technology.   If you are in two minds, my advice would be to give it a go!
My top tips if you're using it for the first time:
*   Use a large-screen device if possible and make sure you can put whatever device you are using on a table or chair that allows Adam to see you
*   If you are using a tablet or smart phone download the free app in advance (you don't need to create an account).  If you are using a laptop launch Zoom via Google Chrome (not Edge or Internet Explorer)
*   Arrange to do a test run on Zoom with Adam first (if possible), or expect to use the first few minutes of the session getting set up etc.
Ross's Story March 2020
I came to Adam with a goal in mind – to run a half marathon distance. This
was a goal I'd tried to achieve in the past but had always failed. I was
overweight, unhealthy and had a weak mindset with some bad habits holding
me back.
Working with Adam changed all this. Not only did I run the distance but also managed to think differently about my training and have now lost over a stone in weight and feeling better about myself than I ever have before.
The last 5 months have been a huge challenge for me in my personal life and Adam was always accommodating to my circumstances and kept me on course to achieve my targets. Initially I was after a running coach but Adam has given me the confidence to widen my goals to other sports and activities and now I feel like an athlete, which has been the biggest benefit of training together. I now find it easy to keep healthy habits, which will serve me long into the future. Adam was always very kind and helpful, which made it a pleasure working together.
I'd definitely recommend you give him a call and discuss your goals together,
because before you know it you'll experience the life changing benefits of
his coaching.
Aviva Workplace Fitness Class Story 2018 – Present Day
When I joined Adam's classes at work, I had gained a stone over my normal weight (first time in my life I had gone over). Probably due to stress and also age, but was determined to fight it and go back down my usual weight. I was told that due to age/hormones, I would have to do double or triple what I did before for it to have the same effect. It is fair to say I wasn't very fit at the time, and, even though I cycled a bit, I struggled with any continuous exercise.
I was a bit worried before starting the sessions, as wasn't sure what level of fitness everybody else would have. It was great though that I could fit the training around office hours, as life is very hectic (in normal circumstances, pre-corona!), and was struggling to find time to do exercise (any excuse was good enough!).
I wanted to lose the weight I had gained over my "normal", and also feel fit, as didn't think it was good to get out of breath after a little bit of running or going up the stairs…
Adam's sessions were great, as I could slowly build up fitness without feeling under pressure, thanks to alternatives options offered during the class. Also, with the additional workouts posted on our Whatsapp group, it meant that I could do extra sessions during the week. Even when I went on holidays during the Summer of 2019, I carried on doing Adam's circuits, joined by my Spanish family, at our holiday home and at the beach!
Slowly but surely I started feeling a lot fitter, and within 6 months, thanks to the training and the nutritional advice, I lost all the weight I wanted to lose and have managed to keep it off, eating well and not feeling hungry or miserable over it! And now, 10 months after starting training with Adam, I feel really fit, and can tell lots of fat has disappeared from my body.
The circuit training has also helped me with cycling, as have much stronger legs. When I dusted off my bike a month ago (I only cycle in good weather!), and started doing hill routes I would normally have struggled with, I was taken aback by the ease I was pedalling up steep inclines! I also run a lot faster without getting out of breath. It is also fair to say the exercise and the feeling of being healthier has helped with my mental wellbeing in this trying pandemic times.
As I have achieved the goal I started with, my goal now is to keep increasing my fitness levels slowly but surely, so that going through the next few years of continuous hormonal changes doesn't affect my body shape, heart rate, and health in general. Paz
I am so glad we have Adam coming into our workplace at lunchtimes to provide a 1st class HIIT session. When you do HIIT you only need half an hour to get great results. I started in Adams class because I get very little free time outside of work, still paying for a gym membership I think that I have not used for over a year now!
I was training at the time for a 10k mud running event but i enjoyed getting the exercise again and continued with the class after the event. Adam from day one has been professional and keeps ups working hard outside the work group by keeping us in check with homework from time to time which is great as you don't need a lot of space at all and it takes all the thought away from planning a workout regime yourself although i am a bit slack at getting this done.
I feel a lot fitter for doing this class and it keeps me in good shape for winter when the snowboard comes out. When I started out it didn't take too long to start noticing a difference in my cardio fitness from just 1 class a week.
After the class I feel great in the afternoon, it's like the day is reset and ready to start again. Adam keep up the great work and it would be great to see you for a second class every week too, thanks for your time and effort. Neill
The gym really isn't for me. Just cannot get motivated to go after work and faff around with some equipment. The Hiit class is perfect. At work, during my lunch hour, and with instruction from a patient & knowledgeable instructor. Adam takes notice of injuries, niggles, ability, and adjusts accordingly so a class of 10 can all do an effective workout. I want to improve fitness and shrink the beer belly and its all going well. Buzzing for the rest of the day so would defo recommend and do a 2nd sesh. The Hiit means you improve all round and it would complement other regimes or work as a stand-alone class. I did do a boot camp way back when and the results were great so when I saw this was available at work I signed up. It's been 5 months or so and am gutted if a meeting gets in the way and I have to miss one. Great banter with Adam too who acknowledges and encourages individually. Iain
Adam comes into my place of work every Monday to run a HIIT session. I joined as wanted to get fitter whilst trying to fit it in a busy scheduled, and it works brilliantly. It is a great motivator to work out with work colleagues, and I'll come back to my desk feeling really energised for the rest of the afternoon. An easy way to fit in a work out in my daily routine! Since joining the class, I am much fitter than before, and my core is a lot stronger. Paz
Adam comes into our office at lunchtime to do a HIIT class. At first I thought 'hmm, is a 30 min class enough?' I thought it might be too easy but Oh no! He certainly puts us through the paces. He starts and finished on time and u work from the first second to the last. Important when you are attending in between meetings. The class makes you feel great and energized all afternoon.
The classes change all the time and so it's never boring. They are always hard work but you get results. He is really encouraging and we have a laugh as well – as long as we are working! I'd definitely recommend Adam for personal or group training. Julie
I started going along to Adam's lunchtime Hiit class at work a few weeks ago when a local Hiit class I was going to stopped. I was a bit dubious about doing it inside and at work but I'm so glad I joined up…the class is targeted, well paced and makes you work hard! I really enjoy the class. Adam makes it fun but keeps us focussed. He is really attentive in making sure you are getting the most out of the session and on getting the exercises right.
I always feel like my body has been worked hard and I feel good for the rest of the day, almost dreading the pain the next day but in a good way!!! I would love it if there were a further session later in the week too!!!! Can't recommend Adam enough if you want commitment to getting you results. Sam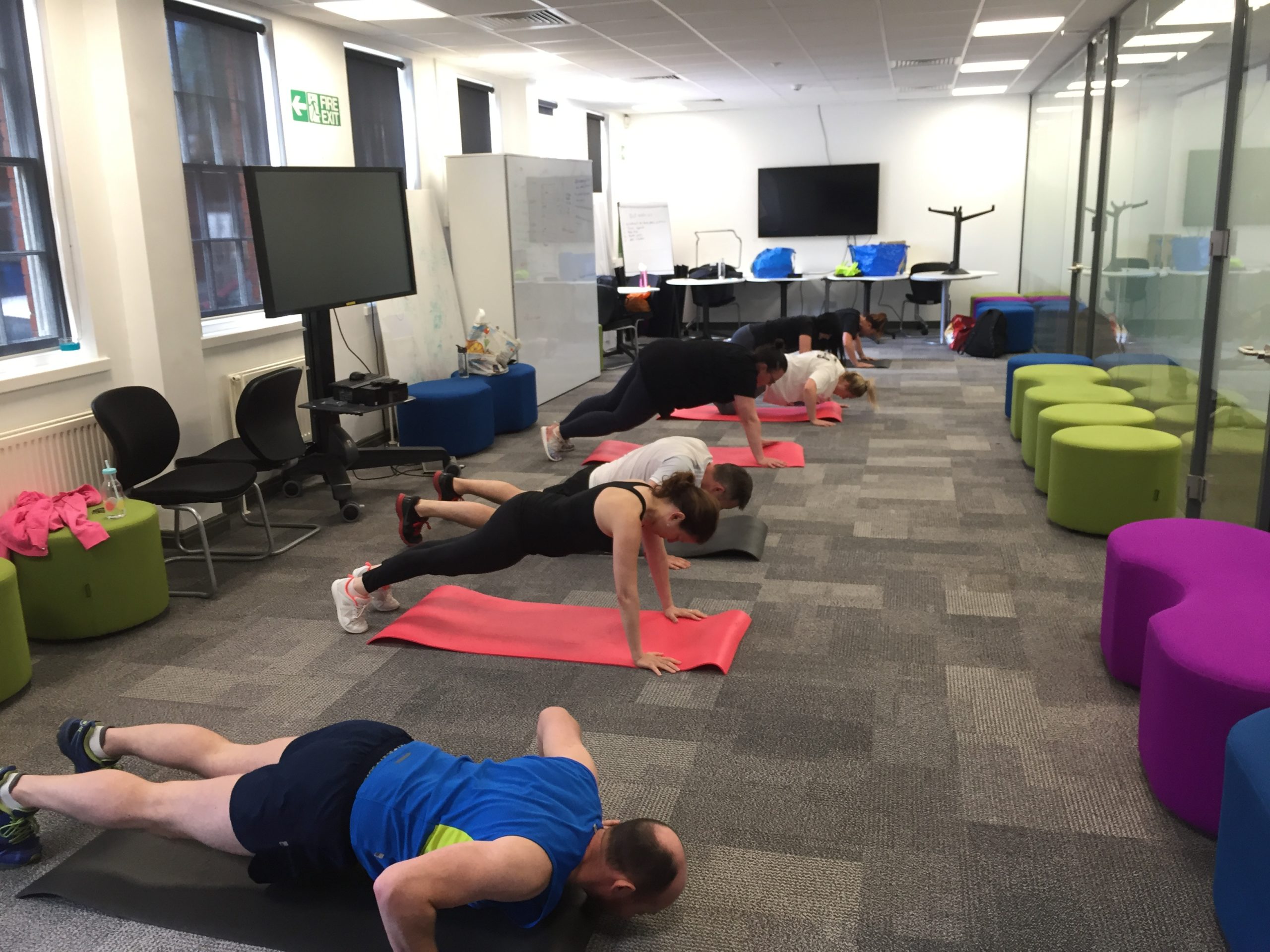 I've been attending Adams HIIT class for approx 7/8 months every week, as I wanted to feel physically fitter after having my daughter. I found that Adam listened to what I wanted to achieve and worked with me in a way that has gently encouraged me to push a little further out of my comfort zone in order to see results. I have felt so much better about my fitness levels, which have improved dramatically since working with Adam. My class is at lunchtime and I feel so much more energised and alert in the afternoon. I would highly recommend Adam as a personal trainer that really knows his stuff and most importantly how to motivate & get the best out of me. Kirsty
Anna's Story August 2020
Adam helped me to train for the Dig Deep 30 trail ultra – he was a great PT/coach and I'd highly recommend him to anyone else looking to train for a race, improve technique, get strong and reduce injury.
He put together a training plan for each month leading up to the race, provided me with strength and conditioning training videos to do at home and met with me in person (or Zoom) to work on technique. We also had regular check-ins via text/phone and he advised on nutrition (something that I've really struggled with in the past). He really tailored the training plan to fit around my lifestyle (adapting for injury/recovery and lock-down) and provided me with the accountability and encouragement I needed to take on a race which I would have previously thought impossible (I've never been terribly sporty and only took up running a couple of years ago because my friend wanted someone to join her doing the couch to 5k program – that was a slippery slope!).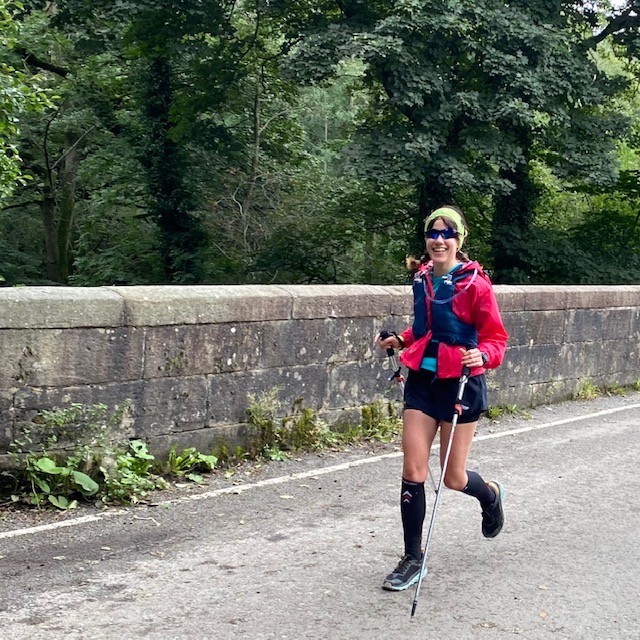 Adam wasn't what I imagined a PT to be like. He wasn't at all shouty, but the perfect combination of knowledgeable, challenging and reassuring. Prior to Dig Deep I had only ever done 1 x 5k race, 2 x 10k races and 1 x 20mile trail race (all fairly painfully and poorly!). Training with Adam meant that I could do 30 miles with over 1,500m of elevation and still be smiling at the end of it (my main goal)! I enjoyed the race and felt good from start to finish. I'm the fittest and strongest I've ever been – happy and healthy. Thanks Adam!
Outdoor Fitness Class September 2020 and ongoing
"Thank you Adam for helping me motivate myself to do some high intensity and strength training. I find this type of exercice tough and it is so much more rewarding to do it in a safe and structured environment. Your outdoor small group sessions are a fantastic way to exercise with others and although they are exhausting, they are also good fun! I definitely want to continue. Thanks again." Anonymous
"Prior to joining Adam's training sessions I had a very casual exercise regime, which usually included some running and the occasional aerobic class. My initial motivation for joining Adam's exercise sessions was to loose some weight and to improve my overall fitness. Since starting the training sessions with Adam I am very pleased to say that I have achieved my goals and am now setting myself some new targets. Exercising outdoors has left me feeling a lot more positive after the training than indoor gym sessions had done previously. Adam is extremely motivating and he switches up his carefully planned workout routines so that each week he offers something different." Danielle
"Adam has been invaluable in helping me achieve a healthy approach to life. I have struggled to keep to doing exercise regularly, always feeling like it was a chore. Adam has been great at keeping me motivated, and I can honestly say I look forward to the weekly sessions. While exercising in a group has been fun, Adam has still been available to tailor each person in the groups' guidance and advice. I have found the small group session structure beneficial and it's worked well around my work commitment, being on the doorstep.
Adams' exercise regimes are fun, varied, and outside has given a bit of extra variety. He has adjusted the exercises depending on the weather/level of muddiness. I intend to continue with Adam's classes indefinitely as part of my commitment to undertaking at least three types of 30+ minute exercises per week. I now feel better equipped to continue doing exercise and look forward to a much more active life.
Adams laid back, informal, non-judgemental approach has been a significant factor in my attending the classes. It would be great if every workplace provided this type of training, definitely better than gym discounts."
Thanks
John
Natalie's Story December 2020
''I joined a local women's running club in Sept 2019 and competed their couch to 5km course. I fell love with running and continued to run with the club increasing my distance to complete a half marathon. I decided to sign up to Adam's running coaching programme in order to improve my hill running technique and train for the hilly Sheffield Half.
Adam's programme has been fantastic. He has taught me how to run properly (I was landing on the wrong part of my foot), built up my stamina on hills and in the process I've lost 11lb, several inches and knocked a couple of minutes off my 5km time and 10 mile time.
Adam is so knowledgeable, very approachable and a great motivator. The training plan he gave me was bespoke to my needs and he was always available to ask questions and get advice.
I've loved every second of Adam's training programme and would highly recommend it to anyone who has a running or fitness goal.''
Anna's Story January 2021
Before I started training with Adam, I had been training for an ultra marathon but kept repeatedly injuring myself from over-training and had to stop running for several weeks at a time. Finally I suffered a calf injury, which stopped me running for 3 months.  When I started with Adam I was desperate to increase my mileage and pace again without further injury. I also wanted to improve my all over fitness and lose weight. I felt very positive and keen – I had thoroughly enjoyed our previous fell running sessions and appreciated all the advice Adam had given me in the past.
My 1 to 1 sessions with Adam were enjoyable but very challenging- he pushed me far more than I ever would on my own and because of that I found our sessions highly rewarding. I started to see results quickly and appreciated all the advice he gave me regarding running and nutrition.
The training plans Adam made for me were very detailed and specific to my needs. I enjoyed following them (both nutritional and fitness) and liked having clear goals each day. I liked the mix of running and exercises, and despite work and children commitments, found I could still fit it into my day. When I found it tricky following plans Adam was always flexible, rescheduling sessions and updating my training plan, which I really appreciated. I also appreciated being able to contact him through messages and emails at any time, receiving prompt and supportive replies.
After 5 months I felt fitter than I had done in a long time. I could visibly see the results and found that I was able to achieve more in the exercises e.g. I had never been able to complete full push ups and plank holds before! Although I had not lost a great deal of weight I felt like I had developed more muscle and strength. I also felt like my running had improved a great deal. Adam helped me prevent injuries by adapting my training plan and giving me advice about stretching.
Despite having taken a few steps back following a recent miscarriage, I feel confident that I can return to my previous fitness and get back on track by following the plans Adam made for me. In the past I've followed running training plans in books but I've never progressed well this way and last time it resulted in an injury.
I have really enjoyed all our running sessions and zoom sessions, feeling fully supported and motivated by Adam during a tricky and strange time. I feel confident that I can return to the level of fitness I reached before falling pregnant and continue to improve my fitness, running and weight loss. Many thanks Adam for all your support!
Kris's Story June 2021
I started training with Adam in early January 2021. When I was in my mid 20s, some friends and I had attempted to walk the Cumbrian Way, a long distance route from Ulverston to Carlisle. We weren't very fit and we didn't get very far, although we did have a lot of fun. Since then I'd often though about going back to re-attempt the route. At 39, I decided that I'd like to attempt it again in early Summer 2021 but this time running.
Over the past few years I've been getting more in to trail running and gradually increasing my distance. However, as my distance increased, I often experienced knee and back problems. I didn't really know how to train and felt this contributed to my injuries. Like many people I'd also put on a bit of weight during the lockdowns and working from home in 2020. I was drinking more alcohol and generally feeling a bit worn down. I decided I wanted to invest a bit of time for myself and work with a personal trainer.  I was looking for someone who specialised in running and found Adam via a google search. We met up and went for an introductory run, we talked through my current routines and my goals. I found Adam easy to work with and knowledgeable and signed up for a New Year start.
I really enjoyed training with Adam.  The programme he put together for me was challenging and varied. I found the short and regular strength and conditioning videos really valuable and easy to fit into my day. Then the face to face sessions were a chance to talk through any concerns and also an extra push for harder running sessions. Adam kept in touch between sessions to see how I was doing. I think having a personal trainer really motivated me to prioritise my training. I have a young daughter and a busy job and often the things I'd like to do for myself get put on the back burner. Adam was very supportive and flexible as a trainer, working my schedule around what I could fit in and other commitments.
Although weight loss wasn't my primary goal, the dietary information from Adam was also helpful and led to a number of improvements for me. In the past I'd ended up feeling weak from training but with advice from Adam I switched to more wholegrains and thought more about how to make sure I was getting enough protein in my diet. I decided to stop drinking alcohol for a few months so I could focus on my training.
In May I completed the Cumbrian Way. I covered 77 hilly miles over four days through the beautiful lake district.  I felt really strong throughout and was still running at the end. This was such an achievement for me and even up to the starting day I wasn't sure if I could do it. It's been really uplifting to set and then achieve such a challenging goal.  I've lost over a stone in weight and feel the healthiest I've been in the last decade. Working with Adam has been key in achieving all this and I'd definitely recommend him as a personal trainer.
To keep my motivation and training up, I've joined a running club and have signed up for the Limestone Way Ultra Marathon this October. I feel confident I can build on the training I've done with Adam to complete this new challenge. Exciting times!
Kim's Story December 2021
Helped me train for Peak District Ultra – 33miles
I started running about 15 years ago and began road cycling a few years later. I am a Consultant Anaesthetist and work can be quite busy, so I generally have a year where I'm focussed on a running event and then a year focussed on a cycling event, but still keep doing some of the other sport too. 2020 was a tough year at work with Covid and I went back to full shifts for a few months and was emotionally and physically tired. I managed to continue running and cycling but not in the same way as before. It was now simply to get out in the fresh air and, when we were allowed, to spend some time with friends. I did however, miss having something to train for but did not feel I had the "headspace" or motivation at the time for this. A friend of mine told me about her training with Adam and the improvements and drive it had given her so I contacted Adam.
I had already been keeping up my running in early 2021 and had built up to 20 miles, aiming for a long-distance event later in the year but also had a 350km multi-day cycling trip booked in June so needed to continue riding before fully committing to my ultra training.
I met Adam in June and liked him straight away. He was passionate about running and also had a running goal he was training for and he was also easy to chat to. He shared some nutritional plans with me and some recipe ideas to help me with my additional goal of losing some of the weight I had gained over lockdown. I find it hard to eat healthily when on shifts and comfort eat when stressed. He noted when my on calls were and worked my training plan around them. He was very patient of factoring in cycling on a Sunday, which is when my cycling club rides, and sent frequent text messages to check on how my food diary and training was going and offered advice and encouragement.
His online HIT videos are clear and it's really useful to have the video in real time to follow. They're hard work but I now understand the benefit of these sessions.
Our 1 to 1 running training sessions were excellent and I really enjoyed them. Adam used the hills near where I live and introduced different drills so it didn't get tedious. Throughout each session he offered gentle encouragement. No shouting. Also, He explored how tough the session was to gauge how much harder he could push me and if I still had breath he would encourage me to keep going further or a faster.
The strength sessions in the park were also very interesting and worked muscles I didn't realise I had! It was good to be outdoors whilst training.
During my training for my Ultra I became fitter and faster and could see PBs on Strava segments that I'd run many times before. It also gave me the mental strength to push a bit harder on shorter fell races I had entered and on Ultra race day when my legs were hurting a lot.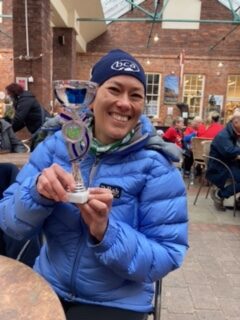 My ultimate goal had been to finish the Peak district Ultra 33. It was tough that was actually 35 miles on the day (and no I didn't get lost!), but I finished it in a good time and also was 8th lady overall so I was ecstatic!
Thank you Adam for your help, encouragement and support.
Kitty's Story January 2022
Prior to starting training with Adam, I had fallen out of the habit of regular running, and was feeling anxious about a recent health diagnosis and struggling with motivation. I had previous been a regular runner, but without any structured training. I was keen to learn more about how to improve my running technique, train effectively and have someone help get me into regular training habits that I could keep up long term.
Adam took time to understood my goals, and current work situation in order to build a plan that was challenging but achievable. He is extremely knowledgeable and explained the principles behind the training plan clearly. We have face to face running sessions where Adam struck the perfect balance of being encouraging and pushing me further, without overdoing it. We also had strength sessions over zoom. In between our sessions together there were clear timely day by day plans of what training I should be doing, including different types of running as well as other cardio and strength sessions. For the strength sessions there was a large library of online resources made by Adam. In addition there were other videos to follow e.g warm up and stretching. He was easy to contact between sessions and checked in weekly. Furthermore, he was flexible in his provision of training in the difficult context covid19 has caused.
He helped me improve my running speed, technique and the distance I am able to run. He also providing lots of education around nutrition and has taught me how to plan effective training. I can highly recommend Adam to others.
Sarah's Story January 2022
I began training with Adam Taylor over 18 months ago.  I was struggling to improve my running performance and technique and had totally lost my running mojo. Although initially quite nervous about having a running coach Adam soon put me at ease and all our sessions were very enjoyable, beneficial and definitely a bit of a laugh!
My goal was to complete a half marathon in a reasonable time and to run the whole distance. We started with a programme which involved intervals, uphills and a longer run at the weekend. The distance gradually increased until I reached the amazing 20K (can't believe I did it). Covid meant that the half marathon was postponed until September 2021 which gave me slightly longer to train and more sessions with Adam. He gently guided me through the training and was always at the end of an email or text if I was suffering a crisis in confidence (quite frequently)! The videos for strength and core for runners which were accessed through Adam's youtube channel were also helpful with the strength and stamina training (particularly the Bulgarian split squats). 😆  I slowly began to feel fitter, stronger and ultimately became faster!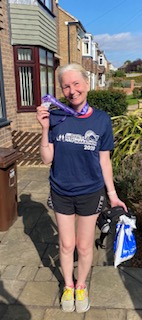 I completed the half marathon in 2 hours and 35 mins! No bad for an old bird! This achievement was all down to the running programmes that Adam gave me every month. Each training programme had an easier week for rest and recuperation so it was never a slog. My next challenge is Sheffield Round Run.
Mile's Story May 2022
I began training with Adam a few months prior to doing my first marathon. My initial training was getting me close, however Adam provided me with the structured and tailored training plan required to maximise my efforts and achieve my goal. I really liked how Adam took in consideration my work pattern and other hobbies such as climbing & swimming, into the training plan. The process with Adam was straightforward, with good communication throughout. Despite getting Covid a month prior to the race day, Adam remained professional, positive and altered my training programme in light of my symptoms.
On the race day I was able to run my first full marathon! The training and advice Adam gave me I will use on a day to day as well as for future training.
I would highly recommend Adam to anyone who is wanting to work towards a goal, or achieve a more healthy & active lifestyle in general.