Protein snack bars
Struggling to resist the snacks at work? Make sure you've always got something stashed in your desk, coat pocket, car for when the snack monster arrives!
Gult-Free snacks that are high in protein e.g. Nuts, meat and eggs. Home made is best like my healthy snack bars. I've made some tweeks to these bars to increase there protein content, which will help keep you feeling fuller for longer, fuel you on a long run and also make excellent recovery snacks.
Bars on the left plate have SynerProTein powder added. I've tried various protein powders in the past and this is the best I've had. Bars on the right chopping board have milled chia seeds and milled flaxseeds added.
Ingredients: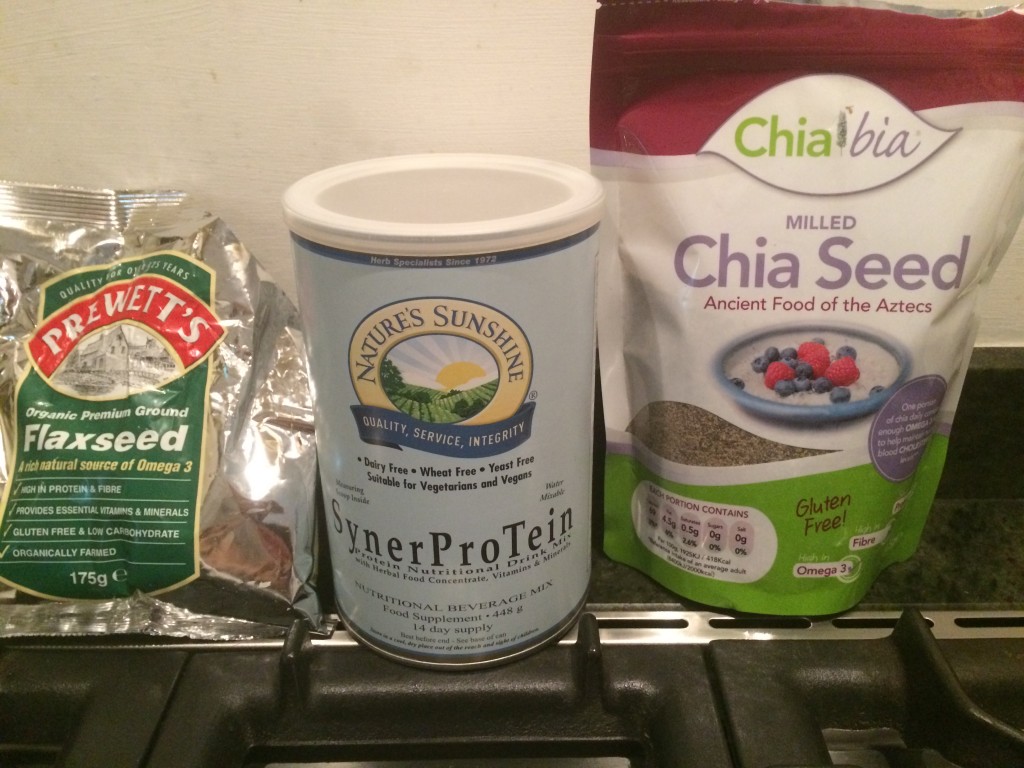 2 x cups of Gluten Free Oats
3 medium sized ripe bananas
1 x cup of dried mixed fruit
1 x ½ cup of walnut pieces
1 x ½ cup of chopped almonds
½ cap full of rape seed oil
WITH EITHER:-
2 x tbsp chia seeds & flaxseeds
OR
Equipment:-
Square baking tin
Potato masher
Large metal spoon
Large baking bowl
Method:
Preheat oven to 180 degrees.
Grease the baking tin with the rape seed oil, wiping off any excess with kitchen paper.
Chop bananas and add to large baking bowl.
Mash bananas with potato masher until liquid. This forms the batter to bind the oats together.
Tip into the mashed bananas the oats, mixed fruit, walnuts, almonds, (milled chia & flaxseed) OR (SynerProTein powder).
Stir until all the ingredients are coated in banana.
Add the mix into the baking tin, using the back of a spoon to pack the mixture in until it is compact.
Place in a preheated oven for 15-20 minutes.
Remove from oven and leave to cool for 15 minutes.
Turn out of the tin (a sharp knife around the edge of the tin helps with this) and divide into 12 cereal bar shaped portions.
Wrap tightly in tin foil.
These store for 5-7 days out of the fridge in an air tight container.
If you were making them for family you could cover half of them with melted 70% dark chocolate and leave out to cool before wrapping, or add a couple of spoons of honey to the mix before baking.