BUPA Great Yorkshire 10k Run Sheffield
Yesterday was a fantastic day for all of us. The atmosphere was electric and Sheffield did us proud by putting on a great event. Congratulations to all of you who ran and the families who supported us, it really does make a huge difference when someone is cheering you on. For some of us it was our first 10k race ever! So an even bigger round of applause for you guys, you know who you are:-).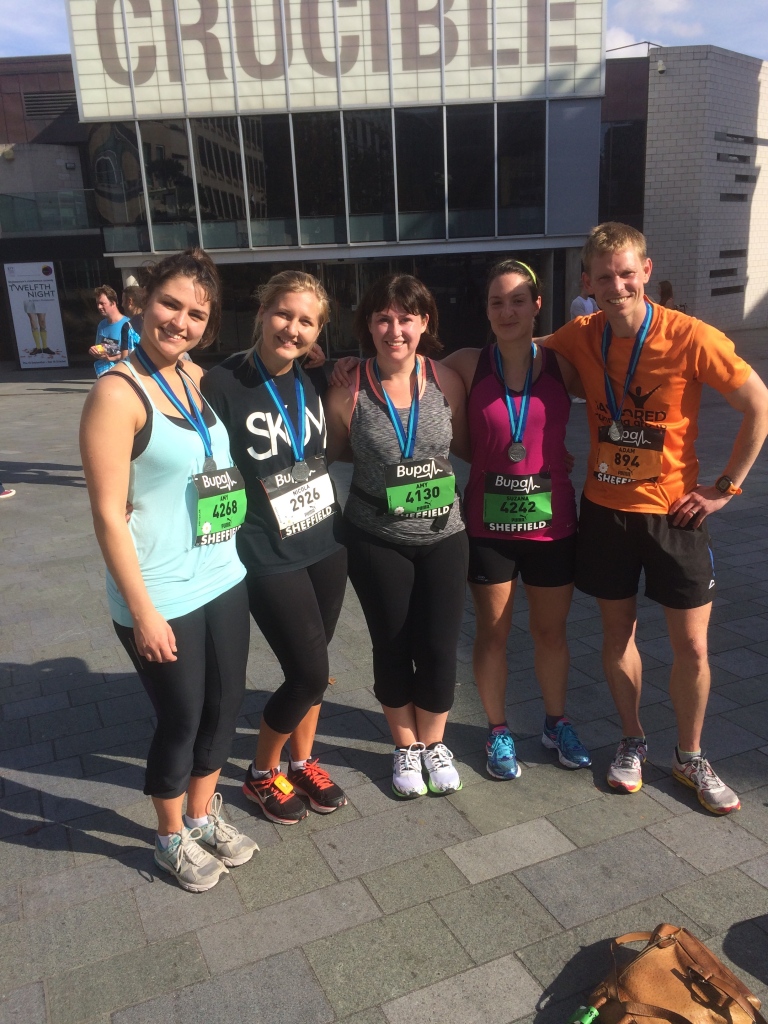 Results listed below:
Adam Taylor – 36:15 (20th)
Will Day – 46:19 (378th)
Jonathan Pagdin – 52:05 (1,013th)
Liz Horricks – 52:06 (1,017th) NEW PB!
Chris Day – 52:06 (1,018th)
Marlene Scott – 54:13 (1316th)
Ella Fidment – 57:22 (1,685th) NEW PB!
Sue Fidment – 57:34 (1,710th) NEW PB!
Max Huxham – 59:13 (1,931st)
Amy Taylor – 59:28 (1,973rd) NEW PB!
Suzana Jovanovska – 1:01:17 (2,196th) NEW PB!
Kath Hindmarch – 1:03:01 (2,396th)
Donna Ricketts – 1:03:46 (2,473rd) NEW PB!
Nina Crowther – 1:03:55 (2,489th) NEW PB!
Lilias Huxham – 1:04:12 (2,518th) NEW PB!
Anna Smith – 1:04:24 (2,537th) NEW PB!
Alyson Rayner – 1:05:33 (2,662nd) NEW PB!
Nicola Clegg – 1:07:24 (2,830th) NEW PB!
Ann Callaghan – 1:09:59 (1,317th) NEW PB!
Amy Mitchell – 1:14:43 (3,275th) NEW PB!
Ellie Storey – 1:20:00 (3,511st) NEW PB!