A guest article written by Chris Day
On the 20th June 2014 we set off from our bunk house near Betws-y-Coed to see if we could reach the summits of all the mountains in Wales over 3000 feet in one go.
I'm a seasoned walker with experience of mountains such as the Cullin Ridge in Scotland but I've never done anything a tough as this one before – 30 miles, 0ver 4000m in vertical accent, and 14 hours first peak to last peak (18 hours total from car park to car park.)
Part fell running, part climbing, but mostly walking, I knew it was going to be a mammoth 30 mile slog but I massively underestimated just how difficult it was going to be in reality. Therefore,  so I've written this short, practical guide to what I did wrong, what I did right, and what I would do differently with the hope that it might be useful for anyone considering having a go themselves.
Walk overview
The first thing to note is that this is a one-way walk (as opposed to a round walk) and can be split into 3 distinct sections. It's about 26 miles from peak to peak, however, unless you're going to camp on Snowden, the walk will realistically be more like 30 miles and around 18+ hours.
We did what many people do and left one car at the end of the route to walk to. In the morning of the walk we left the other car at the start aiming to pick It up after the walk meaning we wouldn't need a support team.
Car Parks
The car park at the start of the walk is called Pen y Pass (SH 647 556.) There is a Youth Hostel there and also a camp-site nearby. The car park is small and fills up quickly though – especially during '3000s season' – so get there early. At the time of writing, parking costs £10 for 24 hours (midnight to midnight) and you'll also need the correct change with you.
The first section (Snowden)
This description is based on setting off from Pen Y Pas car park.
The first two peaks or are, in my opinion, not too challenging. It's quite a long walk to the foot of Crib Goch. We pretty much just went straight on here and climbed to the summit of Crib Goch, however, apparently there is an alternative route around this summit. From the top there is a knife edge route which takes you to the path to the summit of Snowden. From here, we followed the train track before descending into village of Nant Peris
This second section (Glyder)
This section begins with a long slog of a walk to the summit. From there it's quite an easy walk until you get to Bristly Ridge. Some head directly over, however, it's a very difficult decent if you do this so we took the route that most take which is to the right and down a very long and steep scree slope.
From the foot of Treyfan, again we pretty went straight up to it's summit, however, there is an easier path around the side.
From here it's a long decent into the village of Llyn Ogwen.
The third section (Carnedd)
From Llyn Ogwen, again, we took the 'direct' route which was a very steep walk, climb, and scramble to the summit, however, that was the last of the difficult steep climbs on this walk.
The walk now becomes just long and generally quite flat on good footpaths.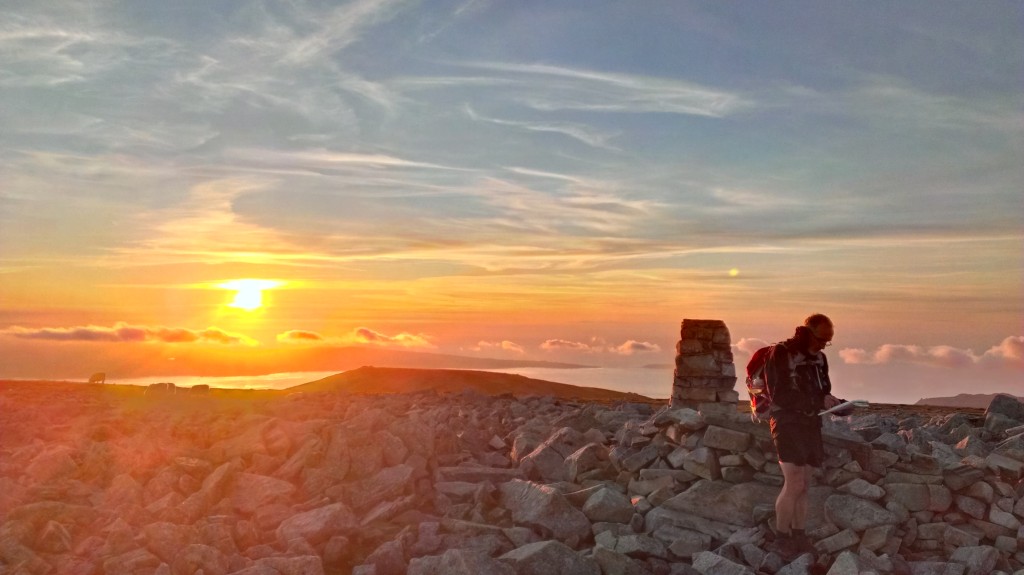 Here are my top tips for the walk
Early start – we did our walk the day before the summer equinox meaning we'd get as much day light as possible. Don't underestimate how long the walk will take and you really don't want to finish in the dark!
We set off from the bunk house at about 5.30 and got to the summit of Crib Goch (the first peak) by about 7.20am. we could, however, have got to Crib Goch much earlier which would have meant we may have finished in daylight.
Water strategy – I ran out of water just over a third of the way in which left me very dehydrated. It was a hot day and there weren't any real options for refilling on route. Carrying over 2 litres isn't a viable option so I would recommend coming up with a water strategy for en route. If you take sterilisation tablets you can fill up from the lakes. Also, there is a camp-site Nant Peris which may be a good option. The third leg of the walk is very long and there aren't even viable any streams or lakes for refilling.
Sun cream – whatever happens, you're going to be in the daylight for up to 18 hours which, even when it's overcast, can burn your skin.
Compression bandages – this distance and terrain is really tough on the ankles and knees to for what they weight, I would recommend taking knee and ankle support socks for when you start feeling twinges or aches.
Shoes – I took 2 pairs of shoes; trail shoes and running shoes. When I felt like I was starting to get a blister, I swapped shoes and made the whole walk blister free. Walking boots are heavy and not really designed for speed or climbing which is what you need if you're going to take the route we did. If it's been dry and you can avoid the bogs, the majority of the terrain is good paths which is perfect for running shoes. Trail shoes are great for down-hill with the extra grip they give. Obviously, you don't get the ankle support with trainers so you'll have to decide what is best for you.
Socks – I took 2 pairs of technical running socks that are designed to wick the water away from your feet. I would have taken three or four pairs in hindsight.
Clothes – I basically went in technical running gear for speed and comfort. When the sun went down and it got cold, I put my fleece on and waterproofs over the top which kept me very warm.
Pain killers – take a good selection; 6 Ibuprofen was the only thing that got me to the end!
Guide – there is no way I would've done this one without a mountain guide. Besides the route not being obvious, you have to be very fast – no time for map reading. Also, there are some points that are very dangerous unless you know the route. I would say this is the more important thing on the list if you're going to get the lot done in one go and one day
Parking – we parked at the Pen y Pass car park (SH 647 556) and walked from there to Crib Goch then Snowden. This car park lets you park for 24 hours at a time but it gets very full quickly.
Kit list
Here is a brief list of, in my opinion, the essentials to take with you:
torch
full waterproofs
map
compass
plenty of water
gloves
sun cream
a selection of painkillers
fleece
food
knee and ankle compression bandages
a first aid kit
A friend of mine recommended walking poles for the down hills to save the knees, although, I can't really comment either way.
Here are a few of my kit list notes in more detail:
It got very cold, very quickly when the sun went down. even though it didn't rain for us, a full set of waterproofs kept me warm once the sun had gone down.
A map and compass per person is essential as is a survival bag (although I didn't use either of these myself.) (O/S Explorer OL17 Snowdon 1:25,000)
There were a couple of times I could have used a whistle to attract attention (it's amazing how poorly the sound travels on those hills sometimes) and obviously, tons of chocolate bars came in handy when you're burning that many calories per hour!
I didn't take my gloves or torch with me which in hindsight I wish I had done.
A hat came in very useful both to keep the sun off my face but it also keeps you warm.
Don't forget your camera too!
If you've got a phone, make sure the GPS is working and you can get an app that gives you an accurate OS map reference which might be very useful.
Isotonic tablets for the water – although not the caffeinated ones. These help you take in water more efficiently.
Crisps are very salty which is useful as you'll probably sweat out loads
Stuff that I wouldn't personally take
Walking poles – very heavy for the benefits and will slow you down although it's a personal choice
Resources
A simple Google search brings back loads of websites providing routes, kit lists, tips, photos, pics, etc. but the only one I've really looked at was welsh3000s.co.uk